VALUE - ADDED PRODUCTS
Our crabmeat is all natural and hand picked under strict
HACCP certified quality control.
"Chesapeake Style" Crabmeat Delight
Create your own custom sized crab cakes, crab balls, stuffed entrees and MORE with this delicious blend of crabmeat, spices, and seasonings.
"Chesapeake Style" Crab Cakes
A succulent variety of spices and seasoning blended with crabmeat to make a superior quality crab cake great for all occasions. Available in 4 oz. and 3 oz. portions.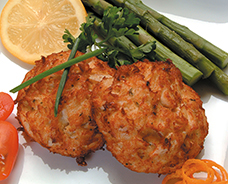 "Chesapeake Style" Crab Balls
The same delicious flavor and superior quality as our crab cakes in bite-sized portions. Available in 1 oz. Gourmet and 1/2 oz. Deluxe portions.