CRAB RECIPES
Our crabmeat is all natural and hand picked under strict
HACCP certified quality control.
Crab Cakes
16 oz Little River Crabmeat
1 Egg
1 Tsp Dry Mustard
1 Tsp Worchstershire Sauce
2 Tbsp Mayonnaise
1 Cup Bread Crumbs
Old Bay season to taste
1/4 Tsp Salt
1/4 Tsp Pepper
Lemon, cut into wedges for garnish
Parsley for garnish
Combine last eight ingredients. Fold crabmeat into mixture and shape into cakes. Pan fry or broil until browned and garnish. Makes approximately 6 cakes.
Crab Ball Appetizer
1 lb of Little River Crabmeat Delight
Cocktail Sauce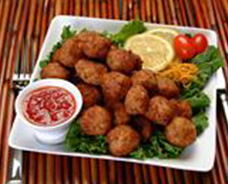 Scoop out desired size, or make balls 1/2 ounce to 3/4 ounce in size. Deep fry at 350 degrees until golden brown, approximately 5 minutes. Serve with your favorite Cocktail Sauce and Enjoy!
Stuffed Mushrooms Appetizer
1 lb of Crabmeat Delight
1 package of whole mushrooms
Shredded Cheese (optional)
Preheat oven to 350 degrees. Wash mushrooms, and remove the stem. Scoop out desired amount of Crabmeat delight and stuff into mushroom. Sprinkle with shredded cheese if desired. Bake for 15 - 35 minutes until light brown on top.
Stuffed Shrimp
1 lb Crabmeat Delight
16 large shrimp cleaned, peeled and deveined
Preheat oven to 350 degrees. Cut shrimp lengthwise, but not all the way through. Stuff 1 oz of Crabmeat Delight into cavity. Bake for 20 - 25 minutes until lightly browned.
Tip: Insert a toothpick into the shirmp to help hole it's form during cooking.
Be sure to remove before eating.
Crab Casserole
2 lb Crabmeat Delight
Crushed Ritz Crackers
1/2 cup Shredded Cheese
Preheat oven to 350 degrees. Spread Crabmeat Delight into casserole pan. Top with crushed Ritz crackers and cheese. Bake for 30 minutes until golden brown.